It's the end of the year and you know what that means, right? A whole month of pretentious bloggers telling you which albums you should have listened to. 2011 was a stand out year for metal and music in general. Because of this, coming up with a list of what I found to be the best albums of the year was not an easy task. Below is a list of my favorite FULL LENGTHS of 2011. My list might have been a little different if I hadn't made a separate list for EP's. Anyway, If you haven't heard any of these albums for some reason then you need to seriously go check them out. I'm going to start off with a few albums that were great but just barely didn't make the cut for whatever reasons.
Honorable mentions:
An Isle Ate Her - 'Phrenia'
All Pigs Must Die - 'God Is War'
Anomalous - 'Omnivalent'
Gridlink - 'Orphan'
Noisear – 'Subvert The Dominate Paradigm'
Russian Circles - 'Empros'
Gigan – 'Quasi-Hallucinogenic Sonic Landscapes'
Unexpect - 'Fables Of The Sleepless Empire"
Wugazi – '13 Chambers'
Continue after the jump to find out what my favorite albums of the year were. Oh and make sure to leave comments telling why my list is shit or what albums I should have been jammin'.
15. Trap Them - 'Darker Handcraft'
Trap Them started 2011 strong with the release of what was arguably the most catchy hardcore album released all year. Darker Handcraft is almost like Trap Them's version of a rock n roll album. It's furious, groovin' and in your face but lacks the raw intensity of their prior releases. Although the album's replay value slowly waned throughout the year, it still manages to be one of the many highlights of '11.
Favorite song: Saintpeelers

14. Protest The Hero - 'Scurrilous'
This is hands down the most cheesy album I've heard all year and I love it. It was nice to find a 'goofier' album that managed to stick out. Scurrilous is probably my least favorite 'real' PTH album and I honestly didn't even think I'd end up putting it on my list. However when looking at my list of hopefuls, this album kept sticking out because of how many times I listened to it. Everything about it is over the top. The vocals are ridiculous, there are guitar arpeggios everywhere, and catchy, awful lyrics. I mean really, what's not to enjoy? (besides the laughably awful lyrics)
Favorite Song: Sex Tapes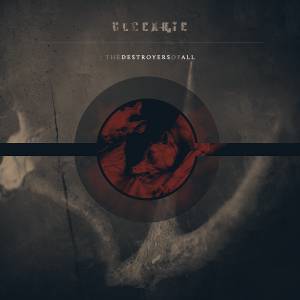 13. Ulcerate – 'The Destroyers Of All'
Dissonant atmosludge death metal!! Early 2011 saw the release of Ulcerate's third full length, The Destroyer Of All. On this album you have Ulcerate dropping the tempo a little bit. Ulcerate have found a way to focus their hectic style into a more atmospheric soundscape. Other than that, I don't know what all to say about this album besides….. God damn, did you hear Jamie Saint Merat's drumming?! It has seriously got to be the best metal drumming of the year
Favorite song: Omens
12. 'Rotten Sound – 'Cursed'
Finnish grind masters made a stellar return in 2011. Cursed is one of the best grind albums of the year. It's fast, it's crusty, and catchy as fuck. Everything this band releases is top notch and this album is no different. Cursed was one of my most anticipated releases this year and my biggest bummer of 2011 was missing them when they played in Ft. Worth. So many bands try to be Rotten Sound, and so many bands fail…
Favorite Song: Self
11. Psudoku – 'Space Grind'
Space Grind comes at us straight from the mastermind that brought us Parlamentarisk Sodomi. This futuristic one man grind machine will blow your mind with some of the most unique riffs the grind scene has heard in a while. This album is almost purely instrumental. It has a few background grunts and barks but it primarily let's the riff speak for themselves. My only real complaint is the length of the album. I feel like Space Grind could have ranked higher if it were shorter and a little more focused. On the brightside, Psudoku sounds like a spaced out Discordance Axis mixed with one part Drugs Of Faith and one part The Locust….. Soooo you should probably head over here and check it out……
Favorite Song: prokPSYch
10. Baring Teeth - 'Atrophy'
Baring Teeth have managed to not only make one of the best albums of the year, but they have also made one of the best debuts I have ever heard. Baring Teeth is a new band based out of Dallas, TX (so I get to see them live monthly) and they are quickly making a name for themselves in the underground scene. Atrophy is a stunning work of dissonant melodies and pure gnarliness. If you are into progressive metal that is of the Gorgutsian persuasion then Baring Teeth's Atrophy is a must listen.
Favorite song: Vestigial Birth (Edit: I couldn't find a video for Vestigial Birth so just listen to Distilled By Fire)
09. East Of The Wall - 'The Apologist'
I'm not the biggest post-metal fan, but the way East Of The Wall mixes post-metal with jazz and other influences really resonates with me. The Apologist is a heavy album that isn't really heavy in traditional senses. Yes, they do have a thundering low end and screaming but that isn't what makes a band 'heavy'. Where these guys really succeed is in their song writing. This album is full of great melodies, stellar musicianship, and would entice any fan of progressive music. I actually had a chance to spend some time with the dudes in East Of The Wall recently and let me just say that they are really nice guys. Check out the interview I did with them and pick up The Apologist.
Favorite song: False Build
08. Orgone – 'The Joyless Parson'
Most of you may not be familiar with Orgone, well they are a technical death metal band from Pennsylvania. Orgone is very different from your average over-the-top wankathon death metal band, they focus more on composition and atmosphere. The Joyless Parson was originally completed back in '08 but has yet to be released due to mix/mastering issues. Thankfully in 2011, a member of the band uploaded a pre-production version up to mediafire. The thing that stands out most to me on this album is the guitar playing. The Joyless Parson is an epic esoteric tale told through ethereal melodies; make sure you scour the webz to find this gem.
Favorite song: Void Of Course (Edit: couldn't find any songs off of The Joyless Parson, so just listen to my favorite song off their first LP, The Goliath)
07. Weekend Nachos – 'Worthless'
For me, this was the grind album of the year. Weekend Nachos has finally found a production job that suits them. I'm going to be honest and say that I always thought theses guys were nothing special, but due to J. Randall's insensate jocking on twitter, I decided to give Worthless a listen. To my pleasant surprise, Randall was right and Worthless is one of the best hardcore/grind hybrid albums to come out since the powerviolence heyday. Worthless is probably the heaviest album to come out this year.
Favorite song: Jock Powerviolence
06. Tyler, The Creator – Goblin
Dear god, was it just me or did Tyler, The Creator's hip hop collective OFWGKTA take over everything this year? Not only did this kid win a VMA, make the coolest music video to be played on MTV, and an awesome album, but he did it all before he was even old enough to drink.. Fuck the haters, how many people can say they accomplished something like this by just being themselves? Anyway, let's turn our attention to Goblin, this has to be one of the cheesiest hip hop albums I've ever heard and that's probably why I love it. The lyrics are dumb, the beats are repetitive, and the teen angst is almost overbearing.. But for some reason, I listened to Goblin almost more than any other release this year. Does that mean I am a hipster? #swag
Favorite song: Analog, and Burger
05. Immortal Technique - 'The Martyr'
The Martyr was a collection of b-sides and unreleased songs that was put out for free this year by revolutionary hip-hop artist Immortal Technique. I am very surprised that he didn't release some of the songs on previous albums considering the quality of the material. It's been several years since the release of The 3rd World and I have eagerly been awaiting a new release for what feels like forever. I remember being slightly disappointed when I heard the first single 'Toast To The Dead' but when the rest of the album was released, I realized it was one of the weaker tracks. Everyone should go here to cop this album… It's fucking awesome and it's fuckin free.
Favorite song: Rich Mans World (1%)
04. Animals As Leaders - 'Weightless'
This is the worst titled album of the year because Weightless is in fact a very dense listen. Weightless has many more layers and textures than AAL's previous s/t. I would like to attribute some of this to Javier and Navene because this album was written as a band and not just by Tosin. I'm not gonna lie, I was a little skeptical about this release at first because of the amount of hype surrounding it but l was wrong. From the first week of it's leak, Weightless has been my morning smoke sesh jam. This album is a dizzingly technical journey that still manages to have a significant replay value. In other words, sit down, smoke a bowl, and jam Weightless…
Favorite song: Earth Departure
03. Grayceon – 'All We Destroy'
Grayceon is unlike any other band that made my list I almost completely missed out on this because I didn't even realize they had been working on new material. When I first saw that they had released the single 'Shellmounds', I instantly went to my computer to find the stream. I was blown away on the first listen, I loved everything about it, the classical guitar playing, the cello, and Gratz's ominous vocals. My love for Grayceon and All We Destroy deepened when I caught all three of their sets at SXSW. Seriously, this is the most beautiful albums I've heard in a long time. If you like anything remotely classical or ominous then go purchase All We Destroy now!
Favorite song: Shellmounds
02. Khann - Erode
Erode was my single most anticipated album of the year. It seems that Khann has gone through a bit of a musical evolution since Tofutopia was released. The band is now comprised of new blood and the songs are less frantic, more streamlined, but still have a very Khann feel to them. Erode is a concept album that seamlessly is weaved together using off kilter melodies in vain of Crack The Skye era Mastodon with a hint of Converge. It's an epic musical journey that I suggest you take right now.
Favorite song: Heroic Dosage (Edit: I can't a video for Heroic so just enjoy The Implosion)
AND FINALLY……..
01. Death Grips – 'Ex-Military'
Let it be known that 2011 was the year of Death Grips. No other new artist has made this much of an impression on me in a long time. Ex-Military is an incredible, obnoxious hip-hop album that will leave you saying "what the fuck just happened". Everything this collective has put out this year has been an extremely tough pill to swallow but once it clicks, it clicks. I don't know what I like most about this album. It could be MC Rides commanding yell, it could be Zach Hill's gnarly drumming, or Flatlanders way of making insane beats using sample of songs and sounds that you wouldn't associate with hip-hop. When I first heard Death Grips I fucking hated it, seriously.. Then I moved on to liking one or two songs because I kept hearing them on turntable.fm.. Now I feel as if every song on the album has been my favorite at some point. I would recommend this album to any patient music fans. Do yourself a favor and give Ex-Military a few more spins 'cause itgrowsitgrowsitgrowsitgrow on yoooooouuuuuuuu, YAH!
Favorite songs: Beware, I Want It I Need It, Spread Eagle Cross The Block, and Takyon…
– Josh Huddleston