Their upcoming LP, A Child of Divorce (out January 17th) really blew me away. So is the Tongues unique musical formula provides for an equally unique listening experience. I recently caught up with vocalist and guitarist, Ron Varod, to ask him a few questions regarding the new album, his involvement in Kayo Dot, and weird haircuts.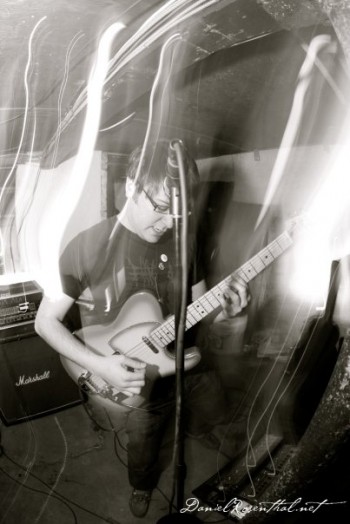 Hello. How are you? Could you introduce yourself to the readers?
Hey, Im doing pretty good. My names Ron and I sing and play guitar for So is the Tongue
The most obvious question would be, where did you guys come up with the name So is the Tongue?
When the band started in 2005 I was way into These Arms Are Snakes first LP, at the time I really wanted a band name with a similar aesthetic. Through some internet searching (I think I searched G-ds Tongue or something along the lines of that) I found this passage from the new testament that included the phrase So is the Tongue. None of the other band names we came up with stood out as much so we decided to keep it and Im glad we did. We are by no means a religious band, so its kind of an odd choice for a nice jewish boy to choose for his bands name haha.
These Arms Are Snakes and the Bible really seem like odd influences on a bands name haha. Speaking of which, what are some influences that shape the way So is the Tongue sounds? Youve got a pretty unique sound going on.
I could probably make a list a mile long but Ill spare you. Even though I play with those guys now Im still pretty heavily influenced by Kayo Dot. I listen to a lot of other NYC weirdo bands like Dysrhythmia, Smother Party, Time of Orchids and Khanate. I was listening to Erykah Badu's first album earlier this week for the first time in a long time.
I was going to ask you about Kayo Dot. Whats it like playing with those guys and what was your involvement with their latest release, Gamma Knife?
Theyre all a bunch of smelly jerks! Just kidding, love playing with those guys. Kayo Dots been my favorite band for years so its a dream come true to get to play live guitar for them. I didn't actually play anything on Gamma Knife but So is the Tongue opened the show that they did the live recording.
Tim (from Kayo Dot) and I helped out directing with all these weird audience participation elements to the songs like gang vocals and banging on baking sheets. Super weird and fun, and I think it turned out great.
Well the album is weird so its safe to say you did a great job! Anyways, back to So is the Tongue. Could you tell me a little bit about A Child of Divorce? Writing/recording process, lyrical themes, etc?
So far the writing process for SitT has gone like this: I write a somewhat loose song structure, sometimes I have specific ideas for drum and bass parts but usually the other two guys write their own parts and we all flesh out the song together. The main structures of the songs on a Child of Divorce have been kicking around since about the time we completed the first album Torpid Blight in 2007.
I usually wait until the music is completely written until I finalize vocals. I write a melody, or if there's screaming then a rhythm idea, then the lyrics are made to fit in the alloted space and usually turn out really vague and probably nonsensical to most people. Most of the songs aren't about one specific thing or event, mostly about an emotion brought out by the music.
We recorded all the instrumentals with Colin Marston in January 11 and when I got back from Kayo Dots European tour we recorded vocals with Alfie from East of the Wall. Our drummer Justin did a bunch of the vocal harmonies too this time around. We went back to Colin for mixing/mastering in June. You'd think this is a long process but I think we tinkered with our first album for about a year and a half which in retrospect was totally ridiculous.
What was it like working with Colin? Did you get to touch his wacky hair?
Colins the man! He was really fun to work with and at the same time super professional. I'm really stoked with with how it came out and Id recommend him to anybody for recording/mixing.
I didn't touch his hair, but I think spending a lot of time looking at the back of his head during mixing inspired me to re-visit having an undercut for the first time since I was 15. Ive since gotten rid of it.
I am convinced that Colins hair houses all of his musical talent. So if you cut his hair similar to his, your next album will be your Sgt. Pepper. I can guarantee it!
I need a cowardly lion haircut so that our next album will be our Ride the Lightning. Or I guess our Master of Puppets because that was their third.
Just as long as you don't release a St. Anger you can have a rainbow colored afro for all I care. Ha. Anyways, A Child of Divorce will be released through Nefarious Industries. How did you guys become acquainted with that label?
Nefarious Industries IS A Fucking Elephant and El Drugstore, all members of those bands are good friends of ours. Greg from A Fucking Elephant now plays bass for us but we were talking about them releasing this album way before Greg joined the band. I think its a great home for us and all the releases on the label so far are great. I cant stop listening to the DRX EP that they released in November, its probably one of my favorites of 2011.
A Child of Divorce will officially be released in a little over a week. What other plans do you have for the rest of the year. Any upcoming tour dates?
Were doing a string of shows this upcoming weekend to celebrate the release of the album in Philly on 1/13, 2 shows in New Jersey on 1/14, Warwick NY on 1/15 and NYC on 1/16. Were planning to do more extensive touring in the US this year for sure, if anybody's interested in having us they can contact us here blanksoisthetongue@gmail.com
Also Ive started making some sketches of new songs recently so I'm excited to write more music in the coming months.
Do you enjoy touring? Do you have any interesting/humorous touring stories to share? Do you have a favorite place to play in?
So far So is the Tongue has only done long weekends thus far which like I said we plan to rectify in 2012. My first long tour was Kayo Dot 11 euro tour and it was a fucking blast. Lots of you had to be there moments and inside jokes. I would definitely love to get So is the Tongue over to euro land in the near future when its feasible.
As far as favorite places to play I think it seems to be more of a raw intense experience playing DIY spaces like small basements etc. I can never really hear anything thats going on but theres definitely an energy at those kinds of shows that cant be matched. With that said I love playing venues with good sound and big fancy stages when the opportunities arise.
One last question: If you could describe So is the Tongue in one word, what would it be?
Might be kind of cliche but: Cathartic
Thanks for taking the time to do this, take care.
Thanks man!
A Child of Divorce/em will be released on the 17th through Nefarious Industries. You can pre-order the album here. Support these dudes! Check out their song Either Way below.
Read my review here.
-Lane Oliver