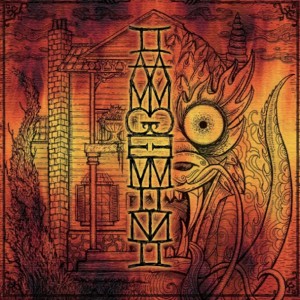 By Lane Oliver
Cursive have been in the music game for a while and constantly find ways to reinvent themselves. On I Am Gemini, they take their established musical formula two steps further. Through prolific storytelling and equally prolific musicianship, the band have created an album of cinematic like proportions.
Like a lot of Cursive's albums, I Am Gemini is a conceptual piece. Tim Kasher's lyrics are written in a play format that introduces a story of long lost twin brothers meeting for the first time. Or is it a story about schizophrenia? That's up to you to decide. So as always, Kasher's lyrics are well written and paint a vivid picture that most lyricists would envy. I wasn't surprised by the intelligence and creativity of the lyrics, but I was surprised by the music itself. I Am Gemini showcases a new direction for the band. The music is a lot more abrasive and heavy than their last few albums. It recalls to the old punk sound of their early work but combines it with the styles they perfected on albums like The Ugly Organ. "This House Alive" opens up the album with a calm and ambient section that soon morphs into a Fugazi-esque punk like indie rock beast. This song may seem heavy compared to their previous album, Mama, I'm Swollen, but this song is just a precursor for what is to come. The next two songs provide a similar approach but it's not until "Drunken Birds" does Cursive really show off their heavy side. Songs like "Drunken Birds", "Twin Dragon", and "Wowowow" show off the band's new penchant for hardcore riffs and musical complexity. It was quite surprising to hear a complex and gritty song like "Wowowow" come out of Cursive. But Cursive still have their softer moments as evident in the two instrumental ambient pieces ("Lullaby for No Name", "This House a Lie") and the majority of the closing track. But as a whole, I Am Gemini is loud, schizophrenic, and abrasive. Three adjectives I wouldn't ever think I would use to describe Cursive.
The album is really strong except that "The Sun and the Moon" didn't really sit well with me. I didn't like the song at all at first, but it grew on me a little since it is integral to the album's story. But I still feel that the song is extremely repetitive and the emphasis Tim puts on the words that rhyme with "moon" during the verses tends to become a little annoying.
I Am Gemini is probably one of Cursive's best albums to date. Their newfound musical style really shapes this album into a totally different animal that is extremely out of place on Saddle Creek's roster. I would go out on a limb and say that this album blows their last few efforts out of the water. Also, since this is the heaviest of Cursives releases, I can see some of the more metal and hardcore minded viewers of this site getting into this album. Check it out.
Rating: 9/10
Label: Saddle Creek
Release Date: February 21, 2012
Favorite Tracks: "Wowowow", "Twin Dragon/Hello Skeleton", "Drunken Birds", "The Cat and Mouse"
For fans of: Fugazi, The Good Life, …And You Will Know Us By The Trail of Dead