This interview was conducted by American Aftermath commenter and soon-to-be contributor Eric Nguyen. Eric has been a fan of the site for a long time and has chosen to interview Full Of Hell guitarist Spencer Hazard as his try-out to become a full-time American Aftermath contributor. The interview went off flawlessly and I am proud to welcome Eric to the Aftermath Family. Read on to see what Eric talked to Spencer about.
Hello Spencer. I'm Eric checking in from  American Aftermath. Thanks for doing the interview. Could you briefly introduce the band for those unfamiliar?          
SH: Hello, My name is Spencer and I play guitar in Full of Hell. We are a hardcore band from Ocean City, Maryland and Central Pennsylvania. We have been a band a little over 3 years now.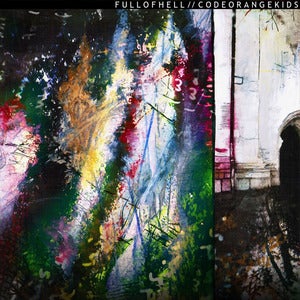 In April, Topshelf Records released a split between Full of Hell and Code Orange Kids. How do you feel about the split and how has the reception been? Will we see more involvement between Full of Hell and Code Orange Kids in the near future?                                      
SH:The reception has been awesome. I think the split has brought us both new fans, people that wouldn't usually be into us now know about us. And I'm sure there will be some other future involvement with the the Kids. We have know them for a few years now, so I'm sure our time with them isn't over.
I understand that you're contributing the introduction to Toxicbreed Funhouse's July Casa De Diversion compilation and that it involves Dave Bland in some form or manner. Wayne from Toxicbreed is predicting a dubstep track or laugh track of some kind. I'm putting my money on dubstep. Care to elaborate on that?                                                                                                                                              
SH:Dave has just become a marketing tool basically, so the track doesn't involve him. Also Wayne is a comedian of sorts, so no dub-step track, just boring noise. Sorry to let everyone down.
In terms of future releases, you guys have a split with The Guilt of… coming soon on A389 Records consisting of "experimental" releases from both bands. Care to explain how the split came together and what we could expect from it?
SH:The split was Dom from A389s idea. He contacted us and wanted to know if we wanted to do a noise split with Mike from Eyehategod. We are all huge Eyehategod fans, so we could not believed that he was even going to set that up for us. We have done noise stuff in the past, so I wanted to try to do something different with instruments. Basically the recording is just layers layers of bass with very light pedal noise underneath it. I think there is something like 6 bass tracks in total on the recording.
The power electronics within Full of Hell are in my opinion one of the most interesting aspects of the band and of which you're the main contributor. Now that the third volume of the purely power electronics Full Of Hell Noise tapes is coming out, I felt it appropriate to ask:  What were the choices and influences behind the power electronics and how did the Full Of Hell Noise tapes come about?                                                                                                                                               
SH: The noise is something that I wanted to do from the very beginning of the band, but when we first started the line-up was completely different. It wasn't until Dylan joined that we were able to experiment more with our music. I had been into bands that experimented with noise while I was in high school with my first introductions being Sunn 0))), the Locust and Agoraphobic Nosebleed. Those bands lead me to find out about Merzbow and Man is the Bastard. It wasn't until I picked up the Insect Warfare noise album that I truly wanted to incorporate noise into our sound. Now we look to acts like Throbbing Gristle and Prurient for current inspiration.
With the inclusion of Dylan into the band, the sound took a turn towards a more chaotic and frenzied approach. Was this change in sound something that came naturally or something the band decided to do as a mutual decision?                                
SH: It was something that came naturally and mutually. Our influences from when we initially started  had changed and the way his vocals sound gave the band a completely different vibe. With the "Inevitable Fear" we were just starting to take a new direction, but the Goldust split is when we first fully realized what we wanted to do as a band.
From reading various interviews, the writing process for Full of Hell appears to be very streamlined and smooth. In an interview with Hardcore Guitar that you stated that you make up the other instrument parts before writing riffs. Rehearsal comes and a demo is sent to Dylan for the addition of lyrics. Musically, do any of the other members contribute to the writing process? Likewise, lyrically, do you or any other members contribute to Dylan's writing process?                                                                                                                                                                                                
SH: For the most part I'll either have a riff or a general concept for a song and I either explain it to everyone or show them the riffs. A majority of the writing process is Dave and I, that way I can have a beat to figure out tempos of the song or how I want a song to start or finish. I think it's easier that way. On "Roots of Earth" Dave and I had a lot of material and ideas written probably a year before we had even recorded the record. Brandon, our bass player, had joined the band maybe a month before we recorded the album and songs that didn't have bass yet, I gave him the initial concepts of how I wanted the songs to sound ("Oars are Broken, "Pisces Legs") and he figured out what he wanted to do for the recordings. We did however write our first song the other day as an entire band. The lyrics are completely Dylan's field, I will sometimes say what I want the vibe of the song to be, but that's my only involvement when it comes to that.
Full of Hell are hitting up Pennsylvania this upcoming Saturday on the 23rd before hitting up a string of dates in July around the 305 Fest in Florida. Are there any further plans for touring afterwards or is time going to spent off for writing, relaxing, work etc.? What's in the future for Full of Hell?                                   
SH: After the July tour we are taking off the rest of the summer to work and write. We have a fall European tour in the works to support another split that will be out around that time. We hope to have enough material after that to be able to record our second LP. After that we just want to tour as much as we can. We really are itching to do another full US tour.
Hypothetically, if you could summon any wrestler, past or present, dead or alive, to fight Dave Bland, who would it be?                                                                            
SH:I have very little knowledge of wrestling ,but I'd love to see Shawn Michaels kick his ass just on the fact his theme song is so awesome. Or Hornswoggle, cause that would be hilarious.
Thanks for taking the time to do the interview, Spencer. Any last words or shout-outs you would like to make?                                                                                      
SH: Thanks for the interview and shout outs to Dom, Dave Heck and all the bands we're friends with because there are way too many to name.