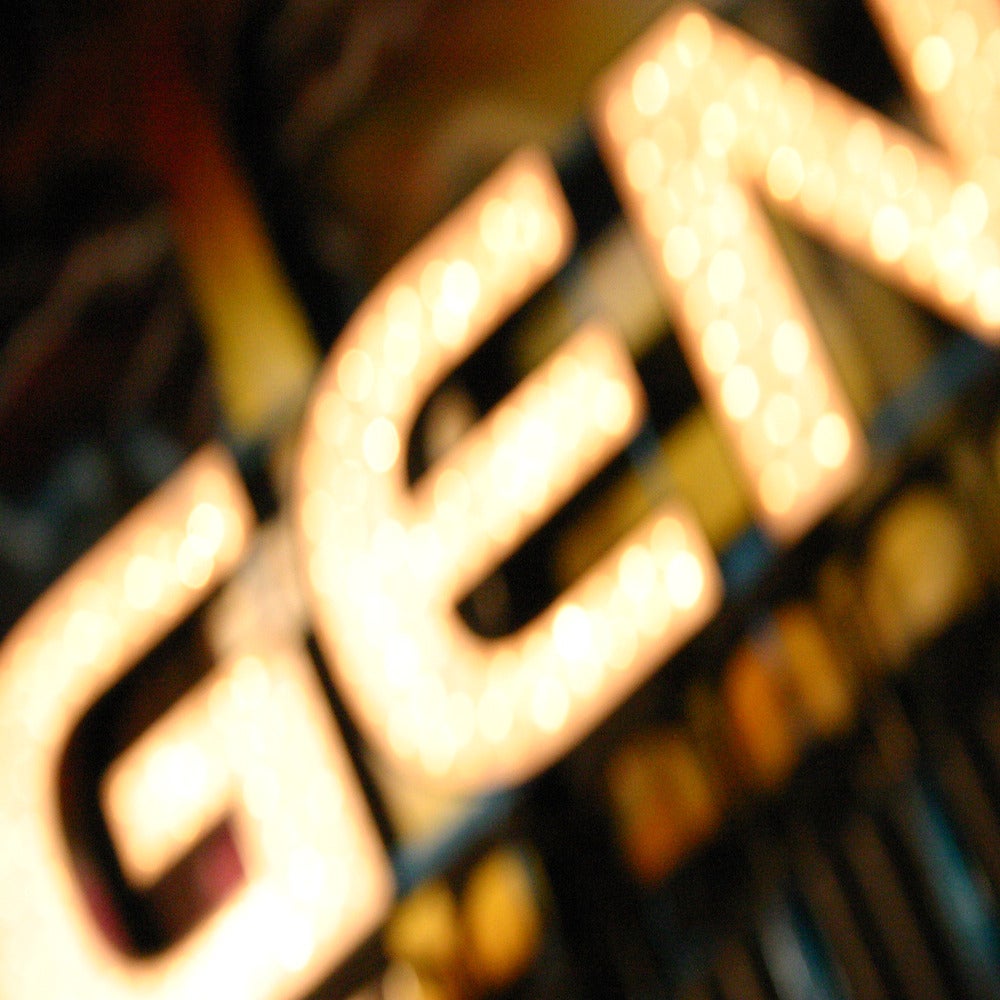 By Lane Oliver
Houston's noisy resident B L A C K I E has shown his listeners that the boundaries of noise music and hip-hop are in dire need of crossing. His EP of last year, True Spirit and Not Giving a Fuck, was like a noisy mechanical meltdown force fed through a dense hip-hop filter. This type of bone crushing, aural assaulting "hip-hop" is what B L A C K I E is all about. But his new album, GEN, showed me that this guy is not a one trick pony. On GEN, B L A C K I E makes a complete 180 and creates an acoustic album. Yes, an acoustic album.
Well, it's acoustic in the B L A C K I E sense. GEN begins with the first in a series of instrumental interludes. "Gen I", as well as the others in the Gen series is just a minute or so of bright, reverberating melodic synths that periodically change octaves (only exception is "Gen II, which is simply in a lower pitch). These four instrumental Gen tracks are kind of pointless in my opinion and could have been expanded on more. The acoustic B L A C K I E experience officially begins with "Radiowaves" in which our noisy poet painfully yells the hook on top of a brittle piano riff in a high key. The verses see B L A C K I E's vitriol accompanied with groovy bass lines and saxophones. Other than B L A C K I E's vocal rhythms, there is virtually no hip hop nods on GEN. His harsh vocal delivery is the only well known thing returning on this record. Everything else is completely different. The thick, distorted beats have been replaced by acoustic guitar punk riffs ("Loading Dock Blues", "False Marriages"), stripped down percussive jams ("Selfishness of Evil Men") and depressing piano ballads ("Everybody Knows (When We Get Together"), "Home Town Blues") to sum it up in a nutshell. I don't know why this idea for an acoustic record slithered into his brain but it is very intriguing to listen to.
The instrumentation is extremely stripped down this time around and may turn some B L A C K I E fans off. It is a very interesting idea and equally interesting to listen to. It shows that this guy is very versatile and isn't afraid to try new things. This is a quality we need in more artists today. However, in my opinion, at times this acoustic style seems to be forced at times. The acoustic instrumentation seems so out of place when B L A C K I E attempts his rap inspired rhythmic yells. But when he yells without a hip hop rhythm in mind it oddly fits. To wrap it up, GEN is a very unique record that I wasn't expecting from B L A C K I E and I wish more artists would take risks like this. Check it out and tell me what you think.
Rating: 7/10
Label: Tooth Records
Release Date: June 19th, 2012
Favorite Tracks: "Radiowaves", "Everybody Knows (When We Get Together)", "Home Town Blues" and "Selfishness of Evil Men"
For Fans of: Death Grips and shit I don't know man.