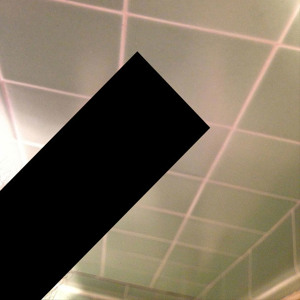 By Lane Oliver
Earlier this year, experimental hip hop trio Death Grips announced their signing to Epic Records and the inevitable release of two new albums this year; The Money Store and NO LOVE (now NO LOVE DEEP WEB). The Money Store marked a slight change in style from the overly obnoxious industrial raucous of Exmilitary to a more "accessible" (in the Death Grips sense) traditional hip hop feel while maintaining the overall chaotic nature of their music. The Money Store grew on me substantially since I initially reviewed it and I have come to the realization of just how catchy and perplexing that album is. NO LOVE DEEP WEB was scheduled to be released in the fall but according to Death Grips the label pushed back the date until next year. Death Grips bypassed their label's contractual obligations and released the album for free a few days ago. Whether or not this was purely a publicity stunt is beside the point. NO LOVE DEEP WEB marks another stylistic mask that Death Grips dons for yet another bewildering release.
It's ironic that the album cover is an erect penis because literally fucks your senses with cataclysmic bouts of destructive rage. Compared to The Money Store, NO LOVE is considerably stripped down. Well, "stripped down" in Death Grips of course. Instead of the cacophonous, noisy layering of The Money Store, NO LOVE focuses more primal sub bass charges and more coherent beats. That's not to say that NO LOVE doesn't get abstract and noisy, because it does. The song "World of Dogs" is the album's most challenging track that features dense layering of pulsating synths and a complex, nearly incoherent beat. But for the most part the hip hop influence is more prevalent than on previous releases. Tracks like "Stockton", "No Love", "and "Hunger Games" really show off Death Grips new direction in particular. These tracks are stripped bare and are centered on heavy bass and Zach Hill's drum patterns and not so much on extra eccentricities. The album opens up with the pulsating mass of reverberating synths that is "Come Up and Get Me". The noisy instrumentation of this track assaults the listener violently while MC Ride's harsh shouts and off-kilter rapping kicks the unprepared listener while they are already down. A catchy tom centered beat opens up "Lil Boy" and lulls the listener into a false sense of security believing that after the first track, Death Grips abandoned the brash madness for more traditional hip hop; which is true for the most part except for the fact that "Lil Boy" throws out oscillating synths and abstract static noises. NO LOVE  allows Death Grips to be more hip hop oriented than before while still being weird as hell. NO LOVE has extremely catchy hook laden tracks like "Stockton" that features "heavy" sub bas and danceable beats. But NO LOVE also features weird, dizzying abstract tracks like "Whammy" and "World of Dogs" that induce vertigo and create an interesting auditory experience. It's basically got the best of both worlds. It's based more on traditional hip hop sounds like The Money Store but also features dark and cacophonous moments that were prevalent on Exmilitary.
For the most part I really like NO LOVE DEEP WEB. Though personally I don't find it as jaw dropping as Exmilitary or as catchy as The Money Store but it is a slight combination of the two and therefore its own entity. I like the new, stripped down direction on the majority of this record except sometimes the more bare moments can sound pretty, well, bare. Some sections are empty and can be pretty dull which is something Death Grips shouldn't be.
But even though I don't care for NO LOVE DEEP WEB as much as their other releases, Death Grips still manages to create something unique and all their own. NO LOVE DEEP WEB is dark, catchy, and for the most part an exciting listen. I am curious as to what their next release will bring.
Queue the fan-boy hate comments in 3…2….1…
Rating: 8/10
Label: Self-released
Release Date: October 1st, 2012
Favorite Tracks "Lil Boy", "No Love", "Lock Your Doors", "Stockton" and "Artificial Death in the West".
For fans of: B L A C K I E, weird ass shit